Thank you for all the support regarding my Gossip Girl/shoe obsession I wrote about yesterday. I am immensely comforted by the fact that so many other people are also wasting and enjoying hours of their lives watching fake NYC teens get into all sorts of mischief, usually involving sex and alcohol.
It's super classy.
I would love some insight though in to how all these teens are running around town ordering cocktails in bars and why no one's parents have an issue with entertaining the opposite sex in their bedroom. Why Gossip Girl? Why?
I also would appreciate a detailed tutorial on how Blair's makeup is done each week, because it's probably 40% of why I love the show.
Did I really just write four paragraphs on Gossip Girl?
Oh no.
Let's just pretend that isn't happening and get to my Friday fun post. I haven't done this in a while and honestly, I sort of miss it. I don't write the questions, just babble on and on while answering them. I feel like I'm being interviewed, by the most random of reporters.
Rules for 5
QF
:
Copy and paste the following questions to your blog post, answer them, then watch for the
linky
post to appear
Friday morning and LINK UP!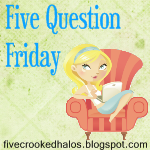 1
. W
hat is the weather like where you are and do you like it?
I think it was 70 here in Central Texas yesterday and I sort of like it. I don't know anyone that doesn't like 70, but I'm from Indiana where there are actual seasons so 70 in January comes with mixed emotions.
I like it being colder in the winter, leaves changing in the fall, flowers in the spring (not February) and feeling like I can walk outside without bursting in to flames in the summer.
Texas weather is not my thing, but 70 degrees is always good...unless it is Christmas day and then I think it's just mean, even to Jesus.

2.
When you're sick what do you seek comfort from?
I'm a Mom of three with a husband that works nonstop, I'm not allowed to seek comfort between the hours of 6:00 am and 7:30 pm, even when sick. After the kids are all in bed though, I crave soup, hot tea, and girly movies.
(Girly movies as in, Sweet Home Alabama and The Notebook, not girly movies as in sexually explicit movies about girls. That would be really weird comfort.)
3. What do you need to do before the end of the month?
I need to finish my kid's Spend-Save-Give jars so that we can actually have it working this year. I am determined to finish decorating my mantle and my oldest's bedroom that looks like his Grandmother might use his room, it's pretty sad for a six year old boy.
I am also desperately seeking motivation to do a really deep clean of my house before the end of the month, but I'm not optimistic about being able to do that since I've been staring at a huge pile of dust for over a week and I continue to pretend that it isn't there.
4. Have you ever served on a jury?
No, but I have read almost all the John Grisham novels and they often have a jury in them.
Is that the same thing?
5. If you could be any animal, what would you be and why?
I guess I'd be my dog, because I think he has it pretty great. He gets to lie on the floor and watch my kids play, but never is forced to participate or even talk to them. When he gets bored, he just moves to another room and no one thinks that's wrong. He also has slept all night, every night, since I started having kids six years ago and that alone makes me so envious I sort of want to cry.
I would definitely be my dog, Indiana.
He's cute too.
Have a good weekend everyone!