I haven't participated in Five Question Friday in a while, and I sort of miss it. It's fun to have the most random of questions thrown at you and then see what comes to mind. So, I'm playing along this morning.
If you would like to play along too you can copy the questions into your blog, then link up to Five Crooked Halos for all the fun. Click on the button below for the website.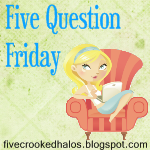 Let's get this started.
1. Do you prefer cotton, silk, or flannel sheets?
In the cold weather, nothing feels as amazing as flannel sheets. In college my sorority had a cold air dorm where you sleep with all the windows open, even when it's 15 degrees outside, and flannel sheets and an electric blanket made for the best night's sleep ever.
Since I live in Texas now and my husband has never once suggested blocking off a room so we can fill it with bunk beds and leave the windows open year round, I always sleep on cotton. My favorite are the t-shirt feeling ones.
I think silk sheets are for elderly women that are maintaining a sexy image, right? Like Elizabeth Taylor. Or for high level drug dealers. Not sure why I think they want to sleep on silk sheets, it just feels right.
2. What time zone are you in?
Central. I can't think of anything else to say about this simply factual question, except that I would like to point out that it means I'm living in the place which starts prime time TV at 7 pm. It's difficult with children to have your night of TV start that early, but it's sort of awesome to have the "late night" shows start at 10.
What is the rationale for starting our TV shows earlier?
I would love to know and will pay someone $100 for a correct answer.
That's a lie, I have $6 right now. I'm not paying anyone anything for information. That's why God invented Google.
3. What is your favorite part of the holiday season?
Christmas morning. I do not like the chaos of circulating through the holiday season's events, especially the exhaustion it inevitably bring to my children. The large family gatherings, parties, and the running around for presents is too much for me. I love seeing everyone, but I don't like long periods of time that feel hectic. I'm weak.
Christmas morning is always intimate and relaxed, no one is trying to go anywhere, and there are presents! It's my favorite time of the whole year.
Other than
Columbus Day, of course.
4. What is your favorite "wintry" drink? (It doesn't have to be an "alcoholic" drink!)
All the Starbucks seasonal drinks which are served in those fabulous red cups. The fact that they change their cups for the holiday season is so fun. It ups the joy of the season to a whole different level.
A peppermint mocha in a red cup could change the world and should be explored as a way to until Israel and Palestine. Just a suggestion.
5. In your opinion, what is the worst job in the world?
The person that empties those port-a-potties.
I can barely stand to go to the bathroom in them, I can't fathom having to empty and clean them. Those people deserve some serious recognition and our deepest gratitude for handling such a disgusting, though necessary, part of life.
Oprah should have given them cars.
Happy Friday everyone! I hope you have a WONDERFUL weekend!