It's happening people. I'm becoming famous. My recipe-ish is taking me places. Far away, fabulous places.
I will soon be featured in the US Weekly section, "Stars, They're Just Like Us" exiting a Starbucks without my kids because I would be able to afford to leave them with someone else. I'll probably be laughing with Reece.
It's going to be amazing. You should order your subscription today so you don't miss it.
I am the featured blogger on Shell's fabulous Things I Can't Say blog. You should go read it.
Here
.
Read it NOW!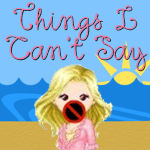 Seriously, I'm not trying to yell at you, but this is important.
I'm teaching Ke$ha how to make Mac & Cheese and asking for some help from her in return. It's probably going to be taught in schools someday, both culinary and literary.
It will change your life.
Or it won't, but it might mildly amuse you for about 5 minutes, and who doesn't need that?
Thanks for having me Shell!
Have a wonderful weekend everyone!